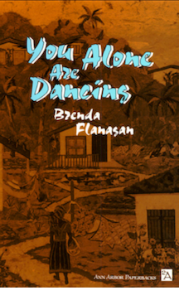 Celebrating women's capacity to endure life's hardships with resilience, stoicism, and humor, this brilliant collection of short stories, meditations, and prose poems paints a vivid picture of life in the Caribbean. Touching on women of many ages and ethnicities, from towns and from the countryside, and in transition—escaping from the hard circumstances of island life and in search of material security in the United States—these engrossing stories demonstrate how even within Trinidad's satirical and sometimes cynical culture, women are capable of developing a sense of self and community.
BLANK
"This is a brilliant collection of short fiction . . . Brenda Flanagan embraces, bundles, and delivers the very best of what it means to be alive." –Al Young, poet, novelist, and screenwriter
Rape, the devastation of hurricane Flora, a child's tragic death, and an indifferent and corrupt government are some of the numerous problems challenging the people of Rosehill. Set on the fictional island of Santabella and spanning three years, You Alone Are Dancing follows the life of young Beatrice Salandy, balancing her ambitions, obligations, and love for Sonny Allen. Determined to create his own opportunities, Sonny leaves Rosehill for the United States in a swirl of promises and expectations. Beatrice remains on Rosehill, sharing her neighbors' struggle, adding their pain to her own, but sharing as well their music and their laughter, their history and their allegiance to it. Like Santabella, set in an indifferent blue sea, Rosehill is part of a larger neglected Caribbean society, and Beatrice must learn to negotiate its tides and ebbs, overcome its storm and ensure its lulls, as she peruses what has to be done. She succeed–but at a price that changes her life forever, as it does that of Sonny and all of Rosehill.
​With a mature and accomplished voice, this novel explores the growth in presence of radical Islam within the Caribbean. Under the shadow of corporate imperialism, complete with disenfranchised islanders, corrupt government ministers, and scheming U.S. oil companies, Beatrice Salandy finds love with Adbul, a man who is second in command in a rising radical Muslim movement. With welfare schemes, grass-roots campaigning, and an air of incorruptibility, the movement becomes wildly popular with the island's poorest classes. But as events unfold, Beatrice begins to question Adbul's sincerity and honesty, and he becomes a fascinatingly unreliable voice in this moving and timely novel.